Dero Bike Depot™ (Bike Shelter)
Save

0

%
Save %
Original price
$5,899.00
-
Original price
$5,899.00
For Quotes, simply add desired products to your quote request with the Add to Quote button. You can view your full request at any time by selecting the View Current Quote Request button on the sidebar. If you need assistance please call us at (888) 990-7508 or email Sales@Outdoorworkoutsupply.com
Whether the project is at a transit station, university campus, or residential building, the Bike Depot's modular design lets customers easily build out to meet their space requirements. They also have the option to fully enclose the Bike Depot with heavy-duty wire mesh and double doors to create the perfect, long-term bike station, or keep it open for public accessible, short-term parking.
Surface Mount Only–Corrugated metal roof–Racks NOT included
All Options Open
The Bike Depot accommodates nearly all Dero commercial grade bike parking systems. Here are a few of the most efficient options.

Submittal Sheet
CAPACITY:
Up to 14 Bikes
MATERIALS:
Uprights:
4" x 3/16" square tube.
Feet: 3/8" plate
Truss: 4" x 1/8" square tube, 1/8" plate, 1/4" plate
Purlin: 2" x 4" x 1/8" tube
Roof Panels: Type S deck 26g galvanized steel
Panels:
2" x 2" x 3/16" wire mesh, 2" x 14g square tube
FINISHES:
An after fabrication hot dipped galvanized finish is our standard option. Pre-fabrication galvanizing is standard on panel components.
Our powder coat finish assures a high level of adhesion and durability by following these steps:
1. Sandblast
2. Epoxy primer electrostatically applied
3. Final thick TGIC polyester powder coat.
MOUNT OPTIONS:
Surface.
Only Shelter has 10" square feet which must be anchored to the ground with supplied anchors.
LOCKING OPTIONS: Key
Padlock
SETBACKS:
Consult local building codes for acceptable setbacks and placement.
LOAD DATA:
Dead Load: self weight of structure
Live Load: 40 psf
Wind Load: 90 mph exposure B
Seismic Load: moderate
Footing: see page 5 under product downloads (brochure)
Anchors: 1/2" diameter x 4.25" Simpson Strong-bolt 2 
LIGHTING:
Solar powered lights are available for an additional charge.
                           No Cage                                            W/ Cage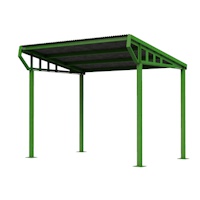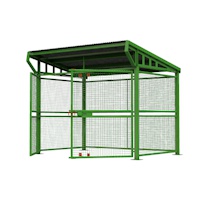 Product Downloads
Catalog
Brochure/Submittal Sheet/Installation
Warranty
Bike Parking Guide
Not all bike parking is created equal. Bad bike parking happens. Sometimes it's an accident or a mistake. But with a little planning and consideration, bike parking can be easy. At Dero, we like to see good bike parking. We also don't like to see money wasted on solutions that don't work. Click here to see the Dero Bike Parking Guide.